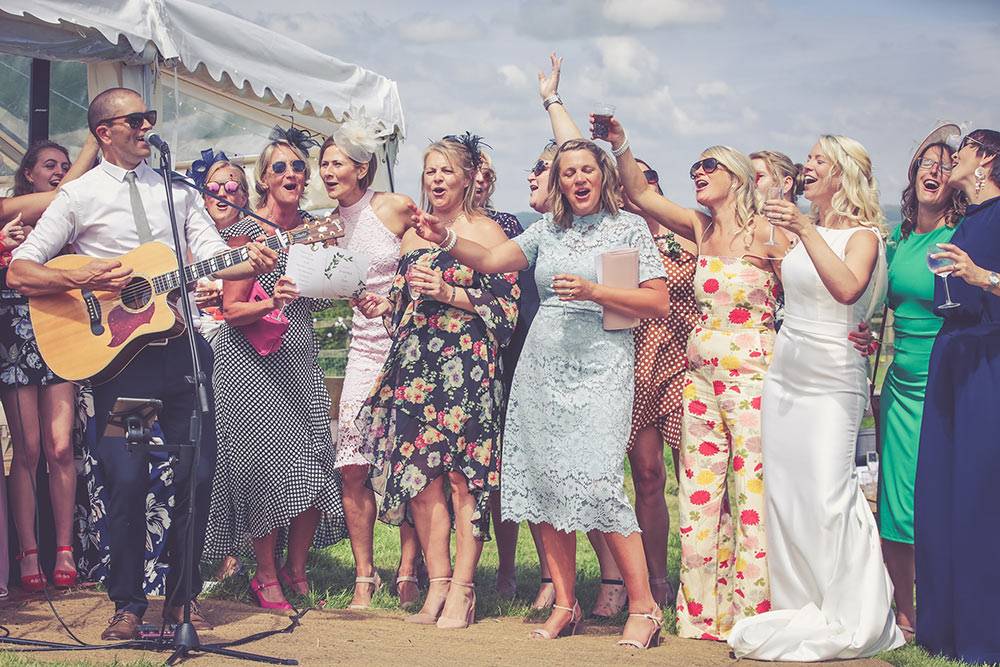 Pat McIntyre – Singer & Acoustic Guitarist
Hey there – I'm Pat, a professional musician based in Bristol in the South-West of the UK. As I'm sure you've gathered if you've got this far, I play acoustic guitar and sing. I do all sorts of gigs, but wedding entertainment is my specialist subject! Music is my life, and I feel incredibly lucky to do this as my full-time occupation.
A short history of "Guitarist for weddings"
It seems hard to believe that I set up this website over a decade ago now – how time flies. The idea came about after I was playing a gig at Illusions Magic Bar in Bristol (any of you Bristolians out there remember this epic venue on the Clifton Triangle?!) I was one of the resident musicians there and played most Saturday nights. One day a couple approached me and said "do you fancy playing guitar at our wedding?"… of course, I said I'd love to!
So in 2009 I played at my first wedding. It went well… so well in fact that two of the wedding guests asked if I'd like to also play on their big day. I started to play a handful of weddings through word-of-mouth, and went on to set myself up as a professional wedding musician.
Live acoustic music at weddings
It quickly became clear that there was a real demand for great live music at weddings. There were plenty of classical guitarists and pianists out there at the time, but no-one was really doing what I did. Using a loop pedal and putting an original spin on all sorts of tunes from the 60's through to the present, my wedding music style was more of a focal point rather than just blending into the background.
Where it all started…
I grew up in Carmarthenshire, Wales and believe it or not, back in the day I had a huge mop of curly hair! Music was something that grabbed me from an early age and never let go. I think my fascination with music came from my dad… I remember rocking out to the Rolling Stones with him as a kid – they were his favourite band and he claims to have seen their first ever proper gig. He recalls running home and telling his parents he'd seen the most amazing band, before being told to calm down and be quiet because he was late home for dinner!
Growing up I was surrounded with all sorts of music – from Motown to swinging 60's classics, punk and classic rock to soul, funk to dance and electronica. When people say to me "what sort of music do you like?" I find it really difficult to answer as my tastes are so broad. One day I'll be blasting out some Curtis Mayfield, the next I'll be rocking out to the Darkness… you might even find me belting out a few Disney classics if no-one's listening!! I was hugely influenced by the 90's Britpop movement, and "Definitely Maybe" by Oasis was probably the album that really defined me growing up. I listened to it endlessly (much to the despair of my parents) and obsessively learnt every chord, riff, vocal harmony and guitar solo. Noel Gallagher and Paul Weller were my guitar heroes back then.
I learnt piano, initially by ear and then I took lessons which gave me a great grounding in music. However, things changed when I picked up a guitar. Straight away I knew it was going to be "my" instrument and I found that I could figure out chords and start playing my favourite songs by ear. I still love tinkering on the piano, but the guitar is like an extra limb these days!
Further Education, Production and Songwriting…
When I was a teenager the only thing I was certain about was music, so I pursued my fascination with production and recording by studying a degree in Music Technology. I later studied Songwriting at Masters level, graduating with distinction. I formed a pop Songwriting/Production partnership with a friend and fellow student of Bath Spa University, and we went on to work with some amazing people such as Tom Walker and Laura Mvula. We had successes in Europe, Asia and as far afield as Australia, but never quite cracked the elusive UK/US markets.
Becoming a pro musician
Why is there a video of me with a cat on my back above you may ask?! Well.. fun fact – I used to be a Postman. Called Pat. And during one of my post rounds a black and white cat jumped on my back! I captured it on my phone and the video went viral… I even ended up heading to the BBC studios in London and chatting about it on the One Show!
What has this got to do with becoming a pro musician? Well, I used to work part-time as a postie and part-time as a musician. My weekends used to generally consist of: Friday – wake up 5am, off to work, Home by 2pm, bed for a few hours and then off to a gig until midnight. The following day would be the same, and Sundays would generally be a write-off!
My wedding business was slowly building, and it eventually got to the point where I was turning work away as I couldn't fit everything in. I took the leap to go full-time self employed in 2016 and never looked back. I grew my business to the point where I'm now one of the most in-demand wedding musicians in the business.
---
Live Music – why book me for your wedding?
There's nothing like live entertainent!
Obviously I'm biased, but the difference between playing music from a Spotify playlist and having a live musician is night and day! Most people think of live music at weddings as being the evening band – but I absolutely love playing during the daytime. In particular, hearing your aisle walk song sung by a live singer with the beautiful, timeless sound of the acoustic guitar is something you'll never forget. There's never a dry eye in the house when that walk down the aisle begins, and you hear your special song, played live and acoustic.
Bespoke, Friendly & Professional
If you book me for your wedding, you'll get a truly personal service. You won't find me on any agency's books because I work independently, and I deal directly with all my customers. As part of my service, I aim to always:
meet with you (where possible) prior to your big day, to discuss requirements and get to know you.
be totally transparent with pricing – you can see my rates here and any questions about travel and fees are listed here, so there are no hidden costs.
put you in control of the music you want played, and honour special requests where possible.
stay in touch with you throughout, and be as flexible as possible (I know that timings and arrangements can change last-minute sometimes!)
go above and beyond to make sure you're happy with everything – for example, I'm always happy to send you an mp3 of your First Dance or Bridal Entrance song, to make sure you know how it will sound acoustically before the big day.
make sure your booking is stress-free by providing a full legally binding contract, and ensuring that I have up-to-date PAT tested equipment and Public Liability Insurance (a requirement for many venues)
– Equipment PAT tested –
– PLI Insurance –
Loop pedal magic
One of the things that people love about my performances is the loop station! I got my first looper back in 2007 after watching KT Tunstall on "Later with Jools Holland". I was amazed at what she could do with that little box of tricks, and I knew I had to get one! I've used various pedals through the years, and my current choices are the Boss RC-30 and RC-300 pedals.
Loop pedals are pretty ubiquitous these days and most people know what they are – but if you've never heard of one, it's basically a magic box of tricks controlled by my feet. My guitar plugs into the unit, and by tapping one of the pedals I can record what I play. Tap the pedal again and it plays back what I've just recorded into it. The loop pedal above has 3 tracks, so I can record three separate things and independently play them back when I choose. I can even plug a microphone into the pedal to record vocal harmonies and add audio effects.
Sounds confusing…?! Well yes! It takes a while to get good at using these pedals. You know as a kid when you tried to pat your head and rub your tummy in a circle? Well, it's sort of like doing that, but while patting your head and rubbing your tummy, you're also tapping a beat in time with your foot, and singing at the same time! Who says men can't multitask eh?!
The end result is an amazing, rich performance. I tend to use the loop pedal on most songs – even if it's very subtle. It's easy to get carried away with these pedals, and bore the audience. I keep it simple for the most part, just layering some simple percussion and vocal harmonies… but sometimes I'll show off a bit more! It really is an amazing sound to come out of one guy with an acoustic guitar. You can check out some loop pedal examples in the playlist below:
Flexible wedding music options
I cover all parts of the day, but my most popular booking is for the daytime wedding ceremony and drinks/canapé reception. Live acoustic music at the ceremony is always a special, emotional moment – I play your chosen songs to accompany the walk down the aisle, the signing of the register and the recessional (exit). I'll also provide a bit of ambience as guests are seated to the ceremony.
After the ceremony there is usually an hour or two before the wedding breakfast. This is a time when the wedding couple often have photographs taken, and guests mingle with drinks and canapés. It's a perfect time for live acoustic entertainment – it turns your drinks reception into an event in it's own right, rather than a lull in the day. The music is usually fairly relaxed in this instance, but as always I'll have my loop pedal with me and if people want a bit of a dance and singalong, this is very much encouraged!
Evening wedding music & the First Dance
In the evening, the set list tends to be more upbeat and lively. I aim to get everyone up onto the dance floor and singing along. It's amazing the difference having a live performer makes – people just love having that interaction, and it really helps guests get into the party mood. Sometimes I'll be the warm-up before a band or DJ comes on, other times I'll be the main entertainment for the evening. Either way, I relish every single performance – put me on a stage and I'm at home!
I also offer the option of playing a beautiful acoustic version of the First Dance Song. Having your song played live is a personal, memorable moment and one you'll cherish for the rest of your married lives. You can choose any song you like, and I'll learn it especially for the occasion. I can even send you an mp3 to practice to!
I can also offer relaxed live music to accompany the wedding breakfast, and am always happy to put a bespoke quote together for you if the options on the pricing page don't quite cover what you're after.
For First Dance tuition and lessons, click here.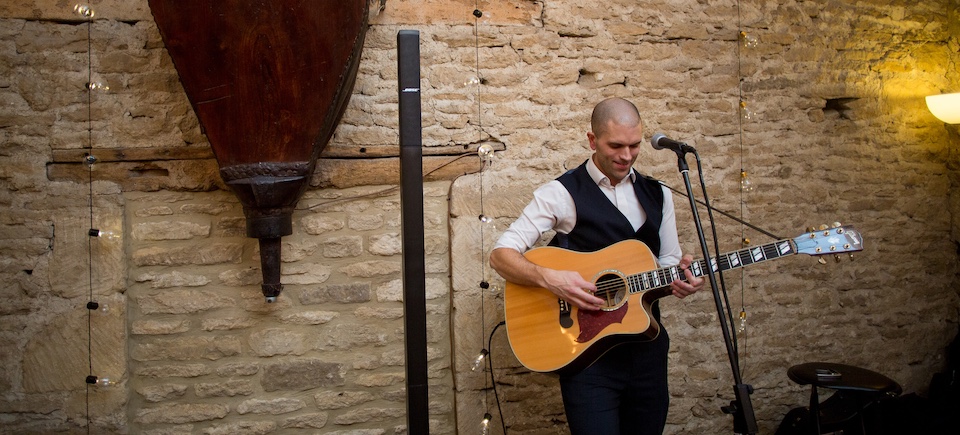 Top-rated wedding musician
I pride myself in giving a first class experience – not just on the big day, but right from the start of your booking with me. I've worked hard to build up my reputation – so far feedback has been 100% positive from every one of my bookings – and I truly believe that my services are the best around. I guarantee professionalism, reliability and flexibility – but don't just take my word for it, read what past clients have to say.
Live acoustic musician covering The South-West and Beyond
I regularly cover weddings in Bristol, Bath, Somerset, Wiltshire, and Gloucestershire, The Cotswolds and surrounding areas. For example: Swindon, Weston-Super-Mare, Clevedon, Nailsea, Bradford-on-Avon, Portishead, Berkeley and Thornbury. I also cover Devon, Cornwall and Dorset – last year I played at weddings in Newquay, Poole, Plymouth, Falmouth, Exeter, St. Ives, Woolacombe, Minehead and Bridgwater. I also cover South Wales, e.g. Cardiff, Newport, Chepstow and Monmouth.
However I'm more than willing to travel if your venue is further out, so just get in touch if you're not in one of the areas listed above. I've played weddings in Oxfordshire, Worcestershire and London before now, and have even had international enquiries for weddings in Sicily, France and Los Angeles!
Get in touch
If you're interested in booking, or want some further information, you can contact me here, drop me an email on info@guitaristforweddings.co.uk, or give me a call on 07817 930779.
I am also available for birthdays, parties and other events – do get in touch if you're looking for a guitarist/singer to entertain at your event.
Thanks for dropping by – and should you choose to book, I look forward to getting to know you!