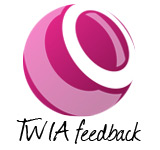 ---
A selection of lovely testimonials and reviews – thanks to everyone involved for letting me use your kind words.
2017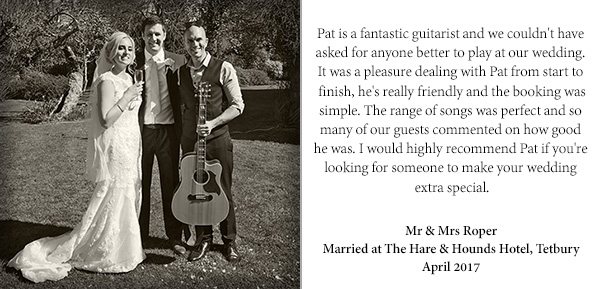 2016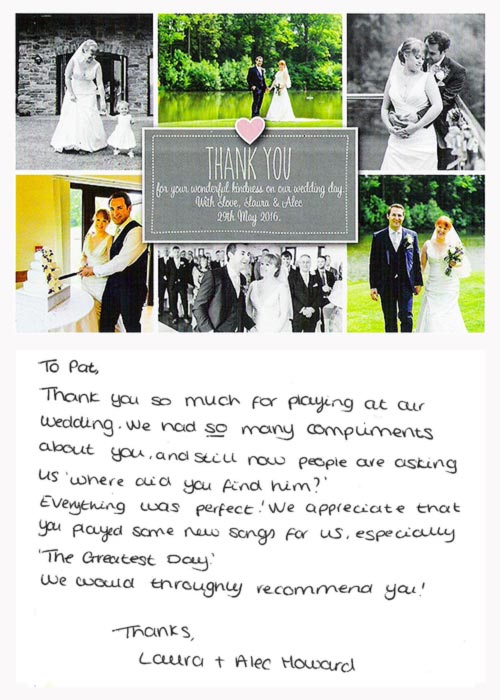 – Laura & Alec (Canda Lake & Lodge, May 2016)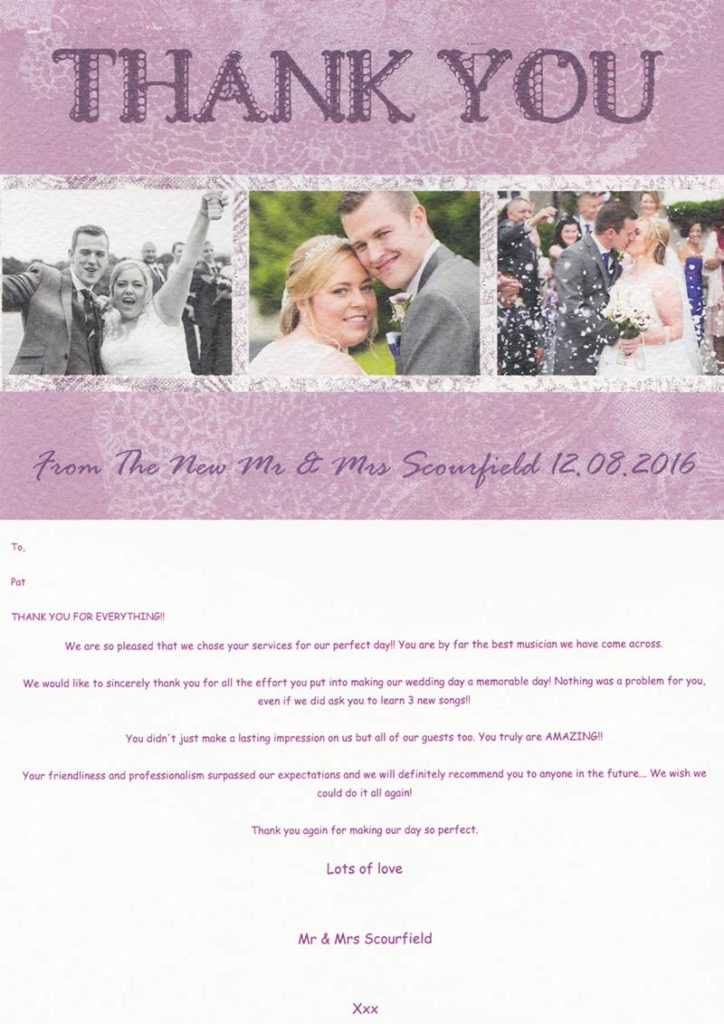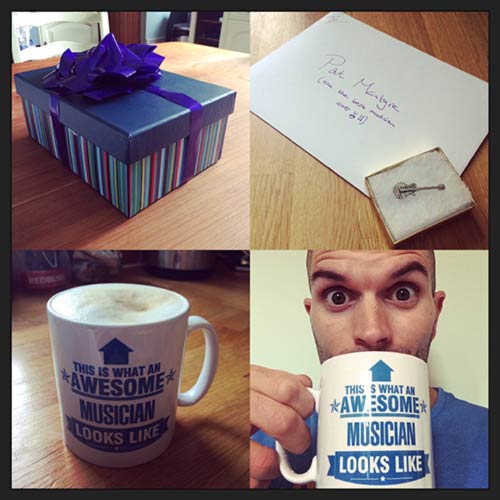 – Card & gift from Mr & Mrs Scourfield! (New House Hotel, Cardiff, Aug 2016)
"Hi Pat,
Me and Ollie just wanted to say a huge thank you for helping to make our wedding day super amazing! You were a real star from start to finish and we had lots of our guests complimenting you on the day and afterwards. You really helped to create a great atmosphere throughout the day and expertly "read the mood" which was really perfect 🙂
Leading up to the wedding out of all our vendors you were the most easy to correspond with and dealt with everything super quickly and professionally, so thank you so much for helping to take some of that wedding planning stress away! 
I'm also so glad we kept you for the evening, as I really think it added a great atmosphere to have you there taking care of the playlist at the end – one of my best memories of the day was walking into the dining room from the marquee towards the end of the evening and being greeted by a room full of dancing people – it was just amazing!
I'm so glad that we had you there on our big day, sorry we didn't get a chance to chat more! We would both recommend you without hesitation, thank you so much again for everything 🙂
– Kristy & Ollie (Huntstile Organic Farm, September 2016)
– Guy and Helen (Kingscote Barn, January 2016)
"Hi Pat
Mike and I just wanted to write to thank you for Saturday. You were absolutely amazing both in church and afterwards and Tiggy loved singing with you too.
So many of our friends have commented on how fab the music was and also on your very easy relaxed and friendly manner which we so loved too. It was just perfect for the atmosphere we had hoped to create.
Bradninch is such a great community with loads going on that I have no doubt we will be using you for some event again in the near future but for now a massive THANK YOU. The day would definitely not have been as special for us without you in it.
With much love"
Claudia and Mike (And Tiggy) – Bradninch Church & The Castle pub, Nov 2016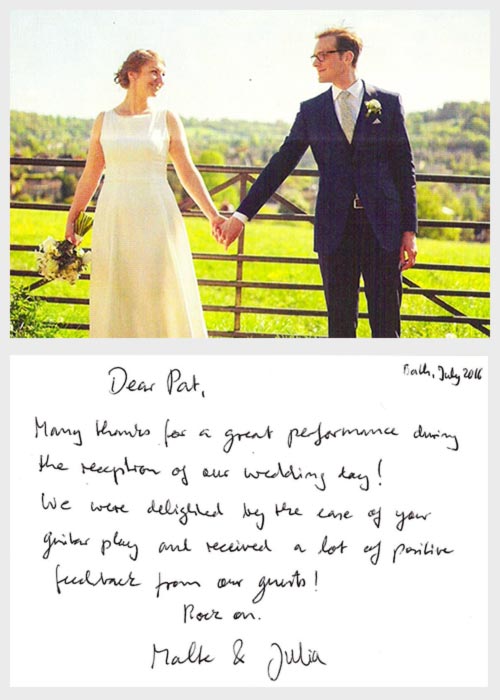 – Malte and Julia (Hare & Hounds, Bath, May 2016)

– Cherie & David (Ever After, Tavistock, May 2016)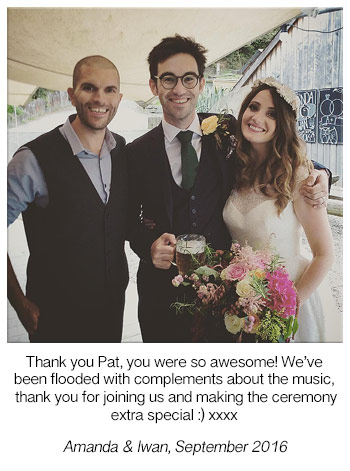 "Hi Pat,
Just wanted to drop you a big thank you for your excellent set at our wedding (Glen Yr Afon 26.05.16).
We loved every minute, probably your smallest audience, but you completed our perfect day.
Thanks again, Sara & Kerry"
– Sara & Kerry (Glen Yr Afon, Usk, May 2016)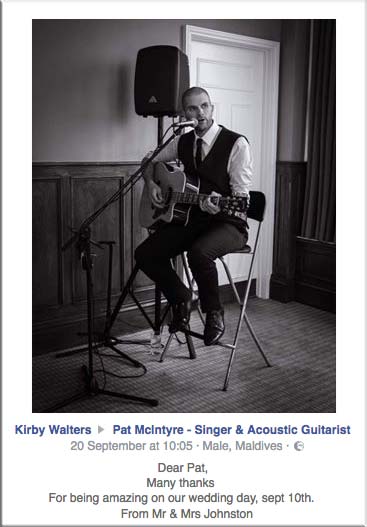 – Louise & Wayne (Oaks Farm, Surrey, May 2016)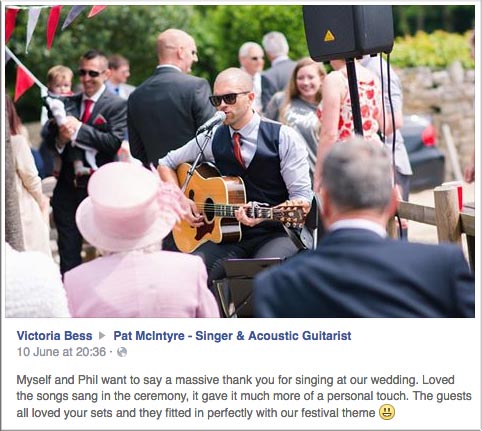 – Phil & Victoria (Colliters Brook Farm, May 2016)
2015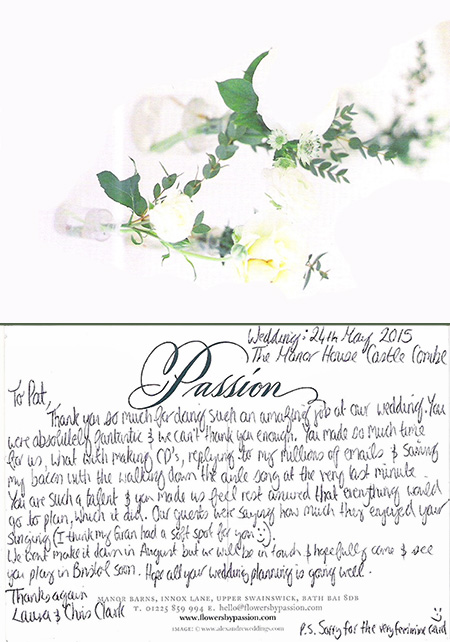 – Laura & Chris (The Manor House, Castle Combe, May 2015)
"Hi Pat. We just wanted to thank you so much for your fantastic playing on Saturday at Laura and Matt's Wedding. As the bride's parents, we were delighted with the evening. Although Laura and Matt chose the songs, we loved the selection and thought your rendition of them all was spot on. Thank you also for letting Laura perform with you – we didn't know it was going to happen, and it was the one part of the day that had me reaching for the tissues!
Many people commented on how fantastic you were, and on what a lovely atmosphere the evening had. We would be delighted for you to quote us in your testimonials, and would not hesitate to recommend you to anyone looking for wedding entertainment.
Thanks again, best wishes, Jackie and Trevor Morgan"
– Matt & Laura (Nailsea Tithe Barn, May 2015)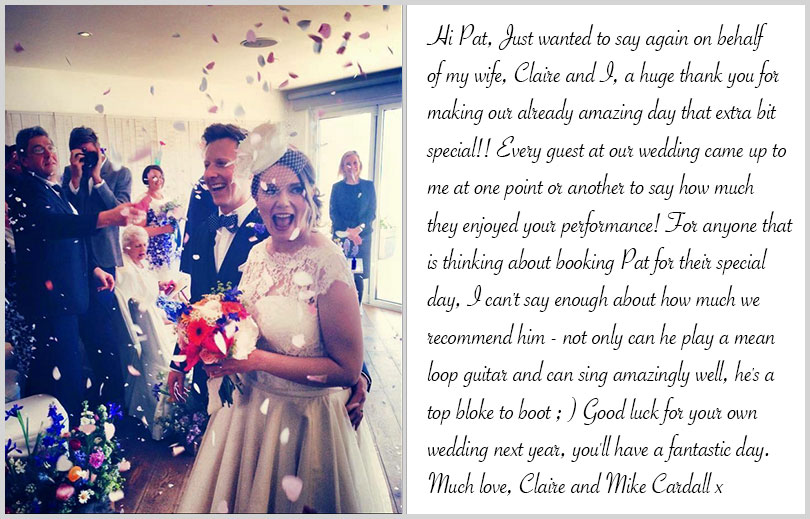 – Claire & Mike (Watergate Bay, Cornwall, May 2015)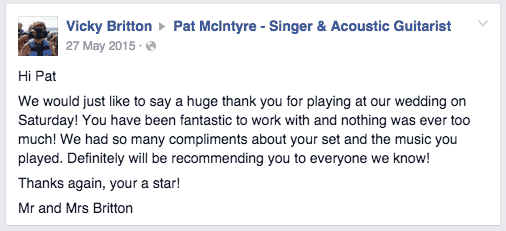 – Vicky & Scott (Coombe Lodge, May 2015)
"Hi Pat, I just wanted to say a huge thank you for playing at our wedding, all our guests commented on how great you were. It was so lovely and personal to have you singing as I walked in and during the signing of the register. Best wishes and thanks again.
– Ali and Ricky (Bailbrook House, Bath, June 2015)
"Thank you so much for playing at our wedding, all the guests commented on how it created a lovely atmosphere and I enjoyed having a little dance with my nieces to your singing 🙂
You were very helpful when I was planning the wedding and set the tone for the rest of the evening. Relaxed, comfortable and magical!
Best wishes," 
– Louise & Colin (Matara Centre, Cotswolds, June 2015)
"Hi Pat, We just want to say a big thank you for making our wedding so special. It was the best day we've ever had and wouldn't have been the same without you! All the best for the future and wedding plans of your own"
– Sarah & Kevin (The Lynhurst, Devon, July 2015)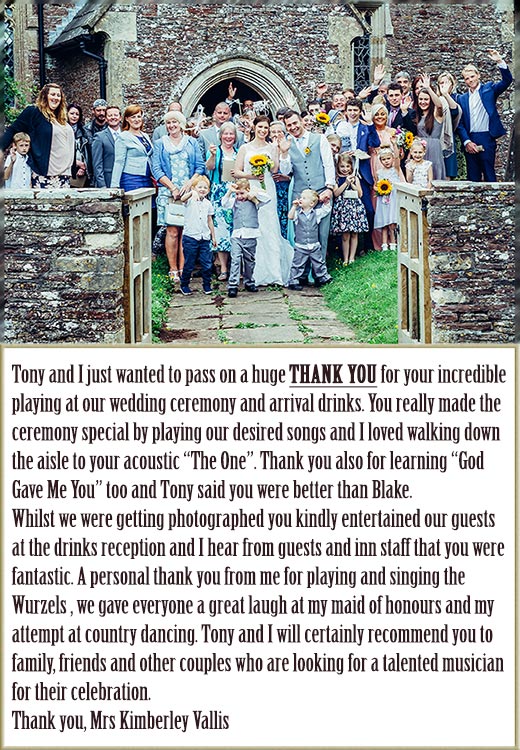 – Tony & Kim (Holy Trinity Church, Rangeworthy, August 2015)

– Jenna & Ceri (Kingscote Barn, Cotswolds, December 2015)
2014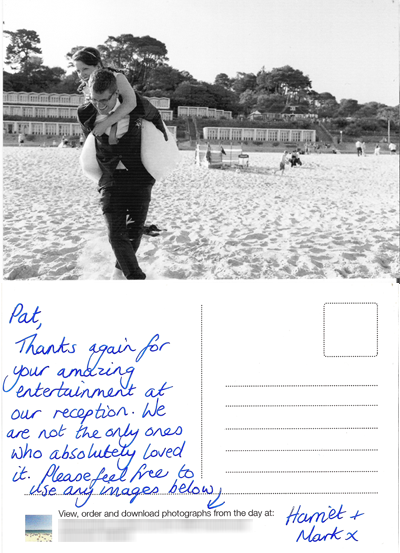 "We just wanted to say thank you for the amazing entertainment you provided on Saturday. We absolutely loved it and have passed your details on to the many guests and beachgoers who inquired about you. We hope you had as good a time as we all did.
Many thanks and best wishes," 
– Harriet & Mark (Branksome Dene, Poole, June 2014)
"Hi Pat,
We just wanted to say thank you for finishing our wedding off in spectacular fashion. We loved hearing you play and all of our guests complimented (and are still saying! how good you were. Thank you again, you were totally fab!"
– Josie and Chris (Westonbirt Arboretum, September 2014)
"Please share our testimony as we want everyone know how much we appreciated your commitment to make our wedding day a special day which we will always remember fondly…
When we were planning our wedding we knew the one thing that was a "must have" had to be having live music played. Our wedding venue, Berwick Lodge, had a list of preferred service providers for us to use to help us create our wedding. This was useful for some things but not when it came to looking for our entertainment requirements.
Pat's website provided his playlist and links to YouTube. This all helped us consider Pat above other local musicians. From the moment we spoke and exchanged emails with Pat we knew we had met someone that would understand what was important to us. This was to create a relaxed and informal wedding ceremony and evening reception.
We found Pat accommodated our every whim. For Pat this meant learning two 80s tunes. T'Pau – China in Your Hand and Waterboys – Whole Of The Moon. His renditions was superb as was his extensive playlist which we selected from.
The comments from our wedding guests have been incredible positive to the extent that they will now go for live music for their future events/celebrations, something they would never have considered before hearing and seeing Pat. I would highly recommend Pat and his guitar as he will give any occasion the additional touch to reflect your personality on your special day"
– Andy & Tracy (Berwick Lodge, Bristol, June 2014)
2013 and older…
"Patrick, thank you so much for playing at our wedding. From the moment we first came to see you play you had gone out of your way to make sure we had the right songs at our wedding, even learning songs for us that we requested. Nothing was too much trouble. Your playing was out of this world from the castle to the reception we could not fault a thing. You made our day complete and our guests are still talking about how good your playing was now a month on. We are just looking for a new occasion so we can have you play again for us. Working with you has been a pleasure, we will definitely be coming to see you play again very soon. Will be recommending you to everyone we know that would like a guitarist for a party or wedding :)"
– Jenna & James (Berkeley Castle, May 2013)
"Hi Pat,
I just wanted to take the opportunity to say how amazing you were on Saturday for Emma and Ian's wedding. Your music is beautiful and was just perfect for Emma & Ian's special day. Will definitely recommend you to friends and family.
Mel (One of the Bridesmaids)"
– Emma & Ian (Court Farm, Banwell – Sep 2013)
"Hi Pat, Ben and I have just returned from our honeymoon and wanted to drop you a line to thank you for providing such fantastic entertainment at our wedding. Your performance was fantastic and I had so many positive comments from guests.  It created a wonderfully relaxed and chilled out atmosphere.  It was lovely to have you perform outside in the courtyard. Your performance of Burning Heart was legendary and i'm personally very grateful that you took the time to learn such a cheesy song for us.  It really was a highlight. I've attached a couple of photos. You were wonderful to deal with from our first meeting in Bristol to the wedding day itself.  You completely exceeded our expectations and gave us the entertainment that really made our wedding day.  We genuinely would recommend you over and over again and we can't thank you enough. With best wishes, The Moons"
– Ben & Clare (American Museum, Bath – July 2012)
"Dear Pat, Stacey and I cannot thank you enough for everything you did for us on Saturday.  You made our wedding the best day of our lives.  Our first dance was made fantastic by your version of our song.  You did us proud and we will definitely call on your services again in the future. Many thanks again"
– Rich & Stacey, (Friars Court, Oxfordshire – Sep 2012)
"We came across Pat whilst looking for a guitarist to play at our sons wedding, after watching the clips on the website, we decided he was perfect to help us create the right atmosphere for our sons vintage style wedding. On the day Pat was amazing, he is a great guitarist and has a lovely voice, lots of our guests were asking where we had found him! Pat was very professional and did everything he could to accommodate us, even when we changed all the times right at the last minute. Will definitely be looking for an excuse to book him again!! Thanks again – Sharon (mother of the groom)"
– Jack & Amie (Alvechurch Village Hall, June 2012)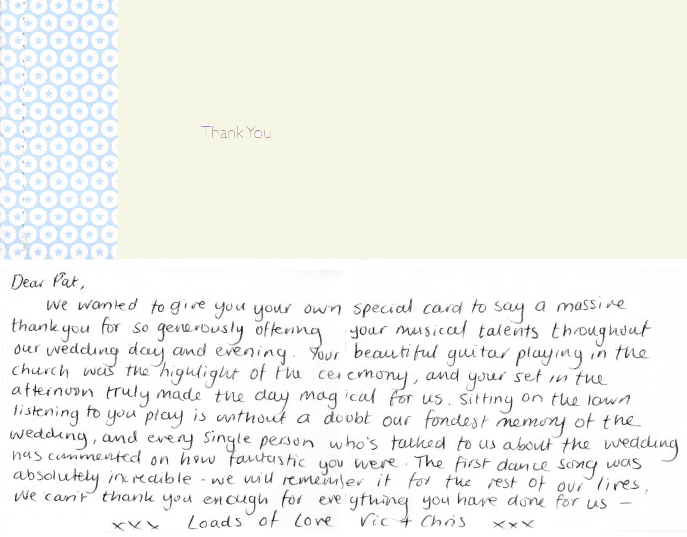 – Victoria & Christopher (Moreton Gardens, Dorset – June 2011)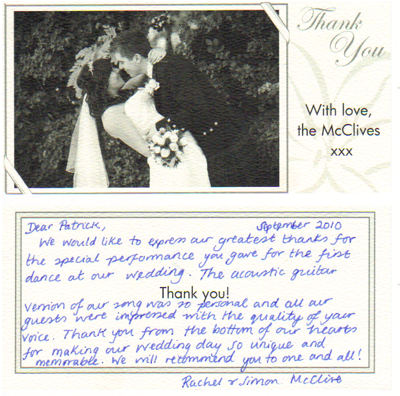 – Rachel & Simon (Batch Country House, August 2010)

"Finding Pat on the Internet was the moment I knew my wedding day was made. We'd been looking for an acoustic singer on the Internet but until then could only find expensive bands or cheesy acts. Pat is a natural singing talent with an excellent repertoire of songs. All of our guests commented on how good his set was and a few people clubbed together to keep him on for another hour at the end. Our experience of working with Pat was of a professional who will do what he can to make your wedding day one to remember. I wish I had another party to arrange so I could book him again"
– Jemimah & John (Avon Gorge Hotel, Bristol – Feb 2010)