Current COVID status: weddings in England going ahead as normal – please monitor Government information for local restrictions and latest updates.
---
Frequently Asked Questions
Can we catch you playing live anywhere before we book?
Unfortunately these days I very rarely get the chance to play a public gig as I'm just so busy with private events. Your best bet is to catch me at a wedding fair or open day – keep an eye on Instagram / Facebook or the Blog section of my website.
How far are you prepared to travel?
Generally, my travel limit is approx. 150 miles or 3 hours drive from Portishead (near Bristol), where I'm based. For longer journeys I may need to factor in overnight accommodation the night before (and potentially a second night depending on the length of the booking).
If I can make the round journey in one day, travel charges are as follows:
| | |
| --- | --- |
| 0-15 miles | No charge |
| 15-30 miles | £15 |
| 30-45 miles | £30 |
| 45-60 miles | £45 |
| 60-75 miles | £60 |
| 75-90 miles | £75 |
| 90-105 miles | £100 |
| 105-120 miles | £125 |
| 120+ | (please email) |
nb: toll bridges/parking charges will also be added to the quote, where applicable
If your venue is outside my radius, contact me and depending on my workload I'll see if I can make it work!
My wedding is abroad – would you travel for a destination wedding?
Contact me with your dates, and if I'm able to travel out and back without affecting any of my current bookings, I'd be delighted to head abroad! I would of course have to factor in flights, accommodation, transport of my musical equipment and extra time, so would need to prepare a bespoke quote.
What is the booking process?
Firstly contact me to check I'm available for your date.
The next step is to fill in a short booking form, and arrange payment of the reservation fee (the date is not secured until this is received). Reservation fees are as follows:
£150 for bookings under £500
£200 for bookings between £500-£750
£250 for bookings of £750-£1000
£300 for bookings £1000+
The reservation fee is subtracted from the final balance, and is non-refundable after the 2 week cooling off period.
Once I have your booking form and reservation fee, I will then send you a full contract and further information about the next steps.
By filling in the booking form and paying the reservation fee, you agree in principal to the terms & conditions. These are the same as listed on your contract. If for any reason, when you receive the contract, you change your mind and decide you don't want to go ahead, let me know and I will return your reservation fee to you.
When do you need the final balance paid?
The final balance is due two months before the wedding.
Can we pay in instalments?
Sure thing – just let me know as and when you make a payment and I'll email you to confirm that it's been received.
I only accept payment via BACS direct bank transfer. Payments made are completely safe – you'll get a receipt and are covered by the T&C's in your contract.
What are your COVID policies?
Whilst weddings are not subject to restrictions in England currently (please continually check government advice) I recognise that there are still challenges and uncertainty caused by the ongoing pandemic. In the event of another lockdown, if your booking is affected the first port of call is to contact me to discuss options. In most cases I'll be able to move your booking to a later date – but do be aware that you'll need to give multiple date options in order to stand the best chance of rebooking all your original suppliers. In the event that we can't agree a new date, there are other options available such as bespoke recordings, or credit towards a future event.
If I wasn't able to attend, my first step would be to find you an alternative musician that we agree on. Alternatively it may be that we look at an option such as bespoke recordings, or even a live stream. These are very much worst-case scenarios though. I will continue to exercise caution and ensure I'm in the best health to attend all events that I'm booked for – I've not missed one yet!
Can we meet up with you prior to the big day?
Yes definitely – I always prefer to have a meeting where possible so that we can discuss arrangements. If you're able to travel to Portishead or Bristol that's ideal. If we live far apart, I'm always happy to do a Zoom or FaceTime meeting if that's more convenient! And if we don't manage to meet up, I'm always contactable by phone or email.
Do you play with amplification or acoustically?
Yes, I use an amp at all my performances. Do check with your venue to see if they allow this – some don't have a license for live music outdoors. At drinks receptions etc. amplification is essential. You'd be surprised at how quickly sound gets "lost" when there's lots of people talking – especially outside. Without an amp, you just won't be able to hear me!
I have a couple of setups – at wedding ceremonies, drinks receptions and small evening events I use a compact Bose PA system (pictured below). I have a larger PA system which I use for occasions which require more volume.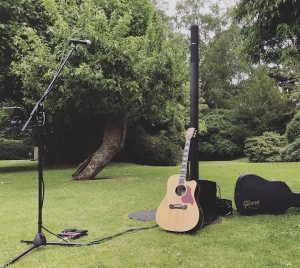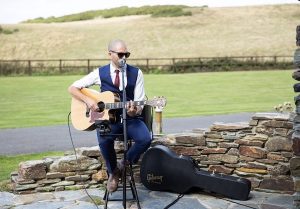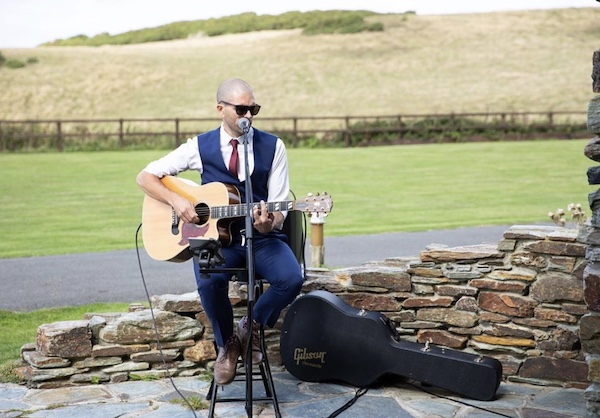 Examples of typical amplified setup
My venue won't allow amplification – can you play "acoustically" (unplugged)?
No, unfortunately not – it's just too quiet for people to hear. The only exceptions might be somewhere like a church where the acoustics are favourable, or a VERY small wedding (10 people or less!). Even in those scenarios I'd usually use a touch of amplification to ensure the sound projects. 
Please note that some venues say "no outdoor live music" due to their licensing, but often they'll allow me to play half in/half out – meaning that as long as my speaker is inside and pointing outwards, they're sometimes ok with this. Please discuss this with your venue before booking with me. Make sure everyone is clear before the event, otherwise it can result in awkward conversations on the morning of the wedding with the co-ordinators!
Will you need a power point?
Yes. If the performance is outside, I will need access to an outdoor power socket or be able to run an extension lead. I would generally not run an extension lead longer than 20m due to safety reasons.
If you think this may be an issue, please contact your venue in the first instance for their recommendation.
My venue insists that all performers have Public Liability Insurance/PAT testing certificates – can you supply these?
Yes – more and more venues are listing PLI as a requirement now. As a member of the Musicians Union, I have full liability cover and equipment insurance. Electrical equipment is PAT tested yearly. If they need to see proof of my documents just put me in touch and I will send over a scanned copy to the venue.

Would your music trigger a sound limiter?
Highly unlikely! As a solo acoustic musician my volume levels aren't very high and should never get anywhere near triggering a sound limiter.
Can we choose the songs or do you have a set playlist?
You can choose the songs from my song list – or I can put a tried and tested list together if you'd prefer.
Do you take special requests?
Absolutely! However, there is a limit as perfecting new songs can take some time:
Ceremony only/Daytime Chill option: up to 2 requests
Ceremony + Drinks Reception: up to 3 requests
Party Starter: up to 3 requests
Party Starter plus: up to 4 requests
I can't 100% guarantee that I'll be able to do every special request but I'll try my best! Requests must be sent to me at least a month before the wedding – depending on my workload, I may struggle to learn them in time otherwise.
How many songs should we choose?
You may find this blog post helpful. For a typical wedding ceremony:
one "walking down the aisle" song
up to three songs during the Signing of the Register
one recessional (exit) song
For drinks receptions/evening events:
approximately 15 songs per hour
you can either – choose all the songs, leave it to me to put together a set list, or somewhere in between (pick a few favourites and I'll fill in the gaps with music based on your choices)
The repertoire is online here, and the song choices page is here.
I've seen you using a loop pedal on YouTube, will you use this when playing live?
Always!
I want a specific song as I walk down the aisle (or during the first dance) but I'm unsure as to how it will sound played on guitar?
I can send you a rough recording of the song – just let me know in plenty of time! 
The song I've picked to walk down the aisle to is 4 minutes long… but it will take less than a minute for me to walk to the front! How does this work?
I'll adapt the song, and end it at an appropriate point – so that we're not all stood around waiting for me to finish playing.
Do you offer a DJ set?
No – I have now retired my "mini-DJ" service that was offered in the past. You will need to book a dedicated DJ or alternative if you want the party to go on into the night!
If you only have an hour or two to cover after my live set in the evening finishes and you don't want to book a DJ, you're welcome to put a playlist on through my speakers. You'll just need to supply me with a device that has a playlist ready to go, with an aux out socket or Bluetooth connection. PA speaker hire will be charged at £75/hr in this instance – I may control the volume levels but I will not control the music.
Playlist tips: nothing can substitute a good DJ and in my opinion it's always worth paying for one if you want an evening party (I recommend Kieran Clarke Entertainment) – however if you are compiling your playlist my tips would be: a/ make sure there's no gaps between songs, using "automix" functions in apps like Spotify and b/ pick well known party songs! Although you might want to fill the night with obscure German metal, it's likely your guests won't all agree and the dance floor will empty pretty rapidly!!
What will you wear on the day?
For wedding ceremonies and drinks receptions, I will usually wear shirt & tie + waistcoat with smart trousers and shoes – unless you request otherwise. If there is a colour theme, let me know on the booking form and I'll try to fit in with this.
On hot days in Summer I'll often wear smart shorts with a short sleeved shirt. Standing in one place in the sun playing music can get VERY hot! However if you object to seeing my knobbly knees (totally understandable) just let me know and I'll make sure I wear trousers!
For evening events I will usually wear smart dark jeans with a shirt & waistcoat, or a smart/casual shirt. If you would like me to come slightly more formal or more relaxed just let me know. Also if you have a theme you'd like me to fit in with, let me know and I'll see what I can do.
We'd like to book you to play just one song, is this possible?
It is… however, I have a minimum charge of £350. Much as I would love to play one song for a cheap rate, this unfortunately would prevent me from taking on a full wedding booking – and in the busy Summer season I'm usually booked out every weekend! If the minimum charge is too much, you could always try contacting me a week or two before your wedding to see whether I'm available, in which case I would be happy to do it more cheaply.
Will you require food?
If booked for the Party Starter or Party Starter Plus, the offer of food is very much appreciated as it's quite a long day. I'm pretty low maintenance though – I never insist on being fed, but if the offer is there I won't say no either!
Have you been to our venue before? Where have you played?
That's a long question to answer 🙂 Here's a list of venues I've played at in my time as a wedding guitarist… I've added web links for those still searching for some wedding venue inspiration!
https://www.guitaristforweddings.co.uk/wedding-venues-southwest-big-list/
Can we buy your music?
Yes – I have two covers albums for digital download on iTunes/Apple Music/Amazon Music etc. If you'd like a CD please contact me and I can arrange this. You can download my acoustic albums here:
https://www.guitaristforweddings.co.uk/the-acoustic-wedding-album-vol-2/