As a follow-on from my last blog piece about live wedding music, I've also put together a few thoughts on what tends to work less effectively, in my experience:
Too much music! I've had plenty of emails in the past along the lines of "we'd like you to play at the church, then the drinks reception for a couple of hours, then we want you to play background music during the meal, then if you could do a couple of hours before the DJ starts". When you're booking a musician, you want value for money for sure – but as a solo performer, this is physically impossible! It would amount to 5 or 6 hours of almost constant singing/playing – and if I had any voice left by that point, I'm pretty sure I wouldn't be able to feel my fingers!
Beware of a tight schedule. Now this affects the live music for sure, but also applies to the whole day. If you're the control freak type who wants your day planned to the minute, unfortunately you do have to prepare yourself for unexpected situations which could delay the day. Try not to cram too much into a short space of time. You may have to look really closely at your timings, and allow for some leeway, especially if your ceremony is starting later in the day. Speeches usually take longer than you expect… the bride is often not on time for the ceremony… the photographs invariably take longer than you'd imagine. Your venue or wedding co-ordinator, if you have one, will usually guide you. If they take a sharp intake of breath and say "ooh, it's a bit tight", they're probably right. It only takes one of the waiting staff to go off sick, or a problem in the kitchen, and all of a sudden you're behind schedule, which can be a huge problem if you've left no wiggle room. I'd say at least 80% of the weddings I play at run behind schedule! One wedding I played at ran 3 hours behind schedule due to one thing and another – yikes!
Try to avoid live music playing while food is served in the evening. This follows on from the last point, in a way. If the schedule is very tight and something runs late, this may be unavoidable. However, this is something I always try to advise people when booking for the evening. If you have a buffet, hog roast, pizza oven – whatever – arriving in the evening, try to make sure the band or live musician isn't playing because of course, the dance floor will empty as soon as food arrives. If I'm booked for an evening, I'll usually play my 2 x 1 hour sets after the evening food is done – or, I'll play one set before the food arrives, have a break during, and then resume after people have eaten. There's nothing worse for the bride & groom than booking a band (or someone like me) and having them play to an empty room!
Does the layout of your venue lend itself to live music? The wedding couple book their dream venue, and fork out on their choice of band or musician, then find that they end up having a largely empty dance floor in the evening. Fortunately this doesn't happen often, but there have been times where I've felt so sorry for the wedding couple because people are just not up on the dance floor in the evening. This is rarely the fault of the band or musician, so how can you avoid this happening? Often the layout of the venue can be a factor. Is the bar in a separate room, away from the area where the musician or band is performing? Often people will gravitate towards the bar (especially the men – come on men – up your game, get on that dance floor!!) and in some cases that's where they'll stay all night. If your venue has multiple rooms or large grounds, that can also be a factor. Just something to bear in mind that I think is often overlooked.
It's too loud!! In some ways this is part of the previous point. If your venue is on the smaller side, a band may not be suitable. As soon as you introduce live drums and electric guitars, things start getting LOUD. Bear in mind that this may be overwhelming, especially if you have more elderly guests. Of course, at this point I'm going to say that a singer and guitarist like myself is a fantastic alternative! Some venues have sound limiters which will cut the electric supply when the music reaches a certain volume level.
In the evening, try to pick songs that will appeal to all. As a wedding musician, my repertoire is large and varied because at a wedding you have all tastes and ages. I always let my wedding couples choose the songs they want played, but it's always worth throwing in as many songs as possible that are well-known and will appeal to the majority. It's your day, and of course you should definitely have the final say on what is played, but also have a think about who will be attending. You won't ever be able to please everyone, but as long as the majority are having a good time, you're onto a winner!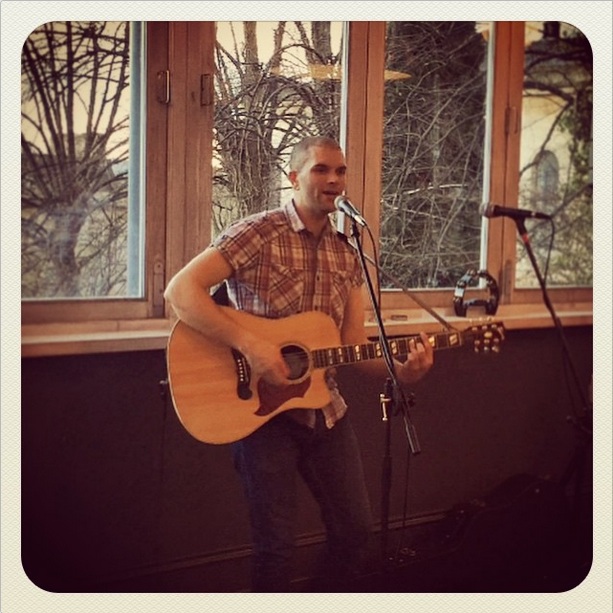 Written by Pat McIntyre, acoustic guitarist & singer for weddings based in Bristol, UK.