Wednesday, 27th May – a midweek trip down to sunny Cornwall for Helen and Andrew's beautiful beachside wedding. Arrived in the morning to this stunning view: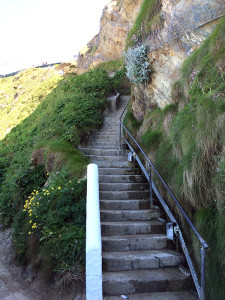 Now, the bride & groom did warn me about the 133 steps down to the beach, which is mainly why I gave myself a couple of extra hours to set up! After five leg-burning trips up and down the steps, I was all set up and ready to play.
With some time to spare, I snatched an hour on the beach on the glorious sunshine – we couldn't have asked for better weather!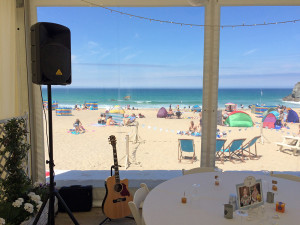 The guests began arriving at about 3pm, and I began the acoustic entertainment. Here was Helen and Andrew's set list:
Jack Johnson - Better Together
Bruno Mars – Marry You 
Beatles – Here Comes The Sun 
Eric Clapton – Wonderful Tonight 
Frank Sinatra – Fly Me To The Moon 
Passenger - Let Her Go
Otis Redding - Dock of the bay 
Plain White T's - Hey There Delilah 
Ed Sheeran – The A-Team 
Bastille – Laura Palmer 
Avicii – Wake Me Up 
The Verve – Lucky Man 
John Legend – All of Me
Jason Mraz – I'm Yours 
Magic – Rude 
Bastille – Pompeii 
Verve - Sonnet 
Newton Faulkener – Dream Catch Me 
Bill Withers – Aint no sunshine 
John Legend – Stay With You 
David Gray – Sail Away 
Christina Perri – A Thousand Years 
Ed Sheeran – Sing 
The Calling – Wherever You Will Go 
James – Sit Down 
U2 – Beautiful Day 
Van Morrison - Brown Eyed Girl
Killers - Mr Brightside
Beatles - All You Need Is Love
A tiring day once I'd dragged my stuff back up the steps – but an absolutely incredible day and such a memorable spot for the happy couple's big day! Thanks so much to Helen and Andrew for inviting me down to this incredible place – and huge congratulations to you both!