Wedding music! It's a tricky one to get right. Everyone's looking for that perfect composition to walk down the aisle to, or a truly meaningful song to make the first dance memorable. The old classics still live on, but occasionally a new song comes out that just fits perfectly for that special moment.
It's only January, but my early pick for 2020 is this brilliant track by the uber-talented Tom Walker. It's called "Better Half of Me" and you can hear my acoustic version here:
Tom Walker has such a strong, rich tone to his voice and he really puts some power into his vocals! My style is definitely a lot more laid back, so I wanted to put together a relaxed version of this song which would perfectly fit a wedding ceremony or first dance.
I can just imagine that moment when the groom first sets eyes on his bride walking down the aisle, with the beautiful lyrics of the song: "I'd have all I need… if you were standing right in front of me… I finally see what it means to be complete"
Fits perfectly, don't you think?
This tune is definitely going to be a top pick this year I think, and I can't wait to play it at weddings in 2020!
---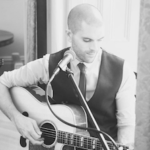 Written by Pat McIntyre – singer & acoustic guitarist for weddings and other events based in Bristol, UK.